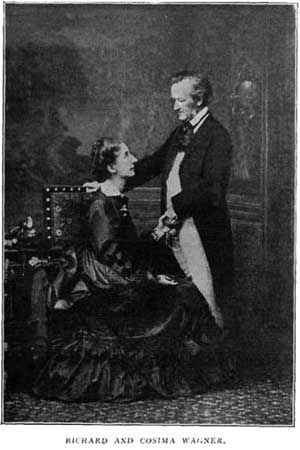 "Hans von Bülow was chosen to conduct the production at the Munich Opera, despite the fact that Wagner was having an affair with his wife, Cosima von Bülow. Even then, the planned premiere on 15 May 1865 had to be postponed because the Isolde, Malvina Schnorr von Carolsfeld, had gone hoarse. The work finally premiered on 10 June 1865. Ludwig Schnorr von Carolsfeld sang the role of Tristan and Malvina, his wife, sang Isolde."
Tristan und Isolde. (2012, September 16). In Wikipedia, The Free Encyclopedia. Retrieved 15:58, October 11, 2012, from http://en.wikipedia.org/w/index.php?title=Tristan_und_Isolde&oldid=512934095
In 1864 Wagner's financial position was transformed by his new patron, the 18-year-old King Ludwig II of Bavaria, who paid off the composer's debts and awarded him a generous annual stipend.[33] Ludwig also provided Wagner with a lakeside retreat at Lake Starnberg, and a grand house in Munich.[34] At Wagner's instigation, Bülow accepted a post as Ludwig's "royal pianist";[35] he and Cosima moved to Munich, and took a house conveniently close to Wagner's, ostensibly so that Cosima could work as the composer's secretary.[34] From 29 June 1864 Cosima spent more than a week alone with Wagner at Lake Starnberg, before Bülow joined them on 7 July. According to Wagner's housekeeper, Anna Mrazek, "it was easy to tell that something was going on between Frau Cosima and Richard Wagner". Mrazek said that later in the visit Bülow found his wife in Wagner's bedroom, but nevertheless made no demands for an explanation, either from Wagner or from his wife.[36] Nine months after this visit, on 10 April 1865, Cosima gave birth to a daughter, Isolde. Such was Bülow's devotion to Wagner that he accepted the child as his own, and registered her as "the legitimate daughter" of Hans and Cosima von Bülow.[37][n 2] Wagner attended the Catholic baptism on 24 April. On 10 June 1865, at the Munich Hofoper, Bülow conducted the premiere of Wagner's Tristan und Isolde.[39]
Cosima Wagner. (2012, August 1). In Wikipedia, The Free Encyclopedia. Retrieved 16:01, October 11, 2012, from http://en.wikipedia.org/w/index.php?title=Cosima_Wagner&oldid=505264611